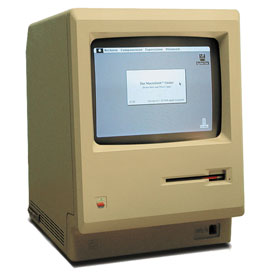 Last Wednesday Apple's Macintosh turned 30 years old, oh how far we have come. Boasting a 9 inch screen, a 3 1/2 inch floppy drive, a 32-bit Motorola processor, 128 KB of RAM and a 400 KB drive it truly was a powerhouse 30 years ago. Just look at her, in all of her beige glory, truly breathtaking.
Now 30 years later we can see the incredible progress that Apple, and the tech industry in general has made. The Macintosh these days, otherwise known as the Mac Pro is on a whole new level. It doesn't have its own screen, but it can attach up to 6 monitors. It has a 3.7 GHz quad core processor, 12 GB of RAM and up to 1 TB of flash storage. Which one looks better however, is truly a matter of opinion.
Despite the technology changing one thing that has always endured is Apple's genius marketing approach. This commercial from 1984 was the first Macintosh commercial, it aired during Superbowl XVIII and has become an advertising icon. When Jobs was describing what he wanted from this commercial he said "I want to stop the world in its tracks," and as always he did just that.
It's not healthy to dwell on the past though, especially in the tech industry. Apple has moved on since 1984 and the new Mac Pro is a sign of just that. This commercial may seem like it was directed by J.J. Abrams but it once again is a thing of beauty.

So happy birthday Macintosh, we hope to see another 30 years of creation and innovation.
Written by: Sam Watkinson