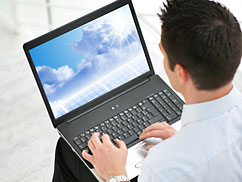 Cloud computing will become even more prominent in the coming years, with IDC predicting rapid, continued growth of major global cloud data centers.
Speaking at this week's IDC Directions conference in Silicon Valley, IDC analyst Frank Gens offered projections on a number of technology areas, including growth for cloud computing. "We know the last seven years, folks were building out global data centers. We haven't seen anything yet. We'll see a doubling of the footprint."
But in four years, there will only be six to eight major cloud infrastructure-as-a-service vendors remaining on a global scale, he said. There will be significant consolidation determining who is and isn't a cloud infrastructure provider, and developers and solutions will gather around a relatively small number of cloud platforms.
Gens showed a slide listing major cloud players, including Google App Engine, Amazon Web Services, Salesforce Force.com, and Microsoft Windows Azure. "With this kind of consolidation, who is going to win?" Gens asked. IDC expects a threefold increase in the number of developers in the cloud during the next several years.
The evolution of data-centric platforms, including Hadoop services, streaming data services, and in-memory databases, also is gaining visibility. "All these guys are falling over themselves to deliver technologies and services that help the developers mine as much of that data as they can to create new value for their customers," Gens said. In the coming years, 75 to 80 percent of new cloud applications will be data-intensive, and data is becoming much more strategic than applications.
IDC anticipates a tenfold increase in new cloud solutions on top of IDC's "third platform" -- consisting of mobile, cloud, and big data -- in the next four years. Many of these applications could be big data-intensive. (Separately, a report by Markets and Markets anticipates a big push for health care in the cloud.)
Also on the rise will be the so-called Internet of things, with more devices of varying types getting connected to the Internet. "There's an amazing amount of innovation and creativity happening in what things you can connect to the Internet," with devices ranging from cars to glasses to toothbrushes getting linked, Gens said. "We're going to see an unbelievable growth in this edge, the Internet of things. In fact, we believe we'll see a doubling in the Internet-connected edge devices over the next five years." These devices, he said, will fuel a major expansion in new killer apps.
Written by: Paul Krill
This story, "Cloud computing's future: Bigger, with fewer options," was originally published at InfoWorld.com. - See original post at: https://www.infoworld.com/t/cloud-computing/cloud-computings-future-bigger-fewer-options-238300?source=footer