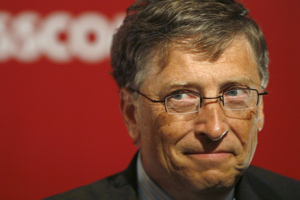 Microsoft is considering having Bill Gates step down as Chairman of the board of directors and naming Satya Nadella as Microsoft's new CEO, according to a Bloomberg news report.
It seems to be a major time of change at Microsoft, shareholders haven't been happy recently - having pretty much forced Steve Ballmer into his exit as CEO - and have now focused their sites on Gates. The complaint is that Gates needs to choose whether to focus his energy and focus on Microsoft or his philanthropic pursuit, The Bill and Miranda Gates Foundation. The thinking is that even Gates can't do both.
Nothing has been announced yet but Bloomberg is reporting that Microsoft Director John Thompson, former CEO of Symantec could step in as chairman.
Nadella is a respected inside executive of Microsoft having run the business applications division, Bing and now Server and Tools. The list of potential CEO's then extends to insiders, Tony Bate and Stephen Elop and the elite of fortune 500 companies including: Ford CEO Alan Mulally, Ericsson CEO Hans Vestberg and Qualcomm CEO Steven Mollonkopf.
If the board does decide to oust Gates as chairman it will be a huge event. Even if he remains and Nadella becomes CEO it will only be the third CEO in Microsoft's history.
Written by: Sam Watkinson