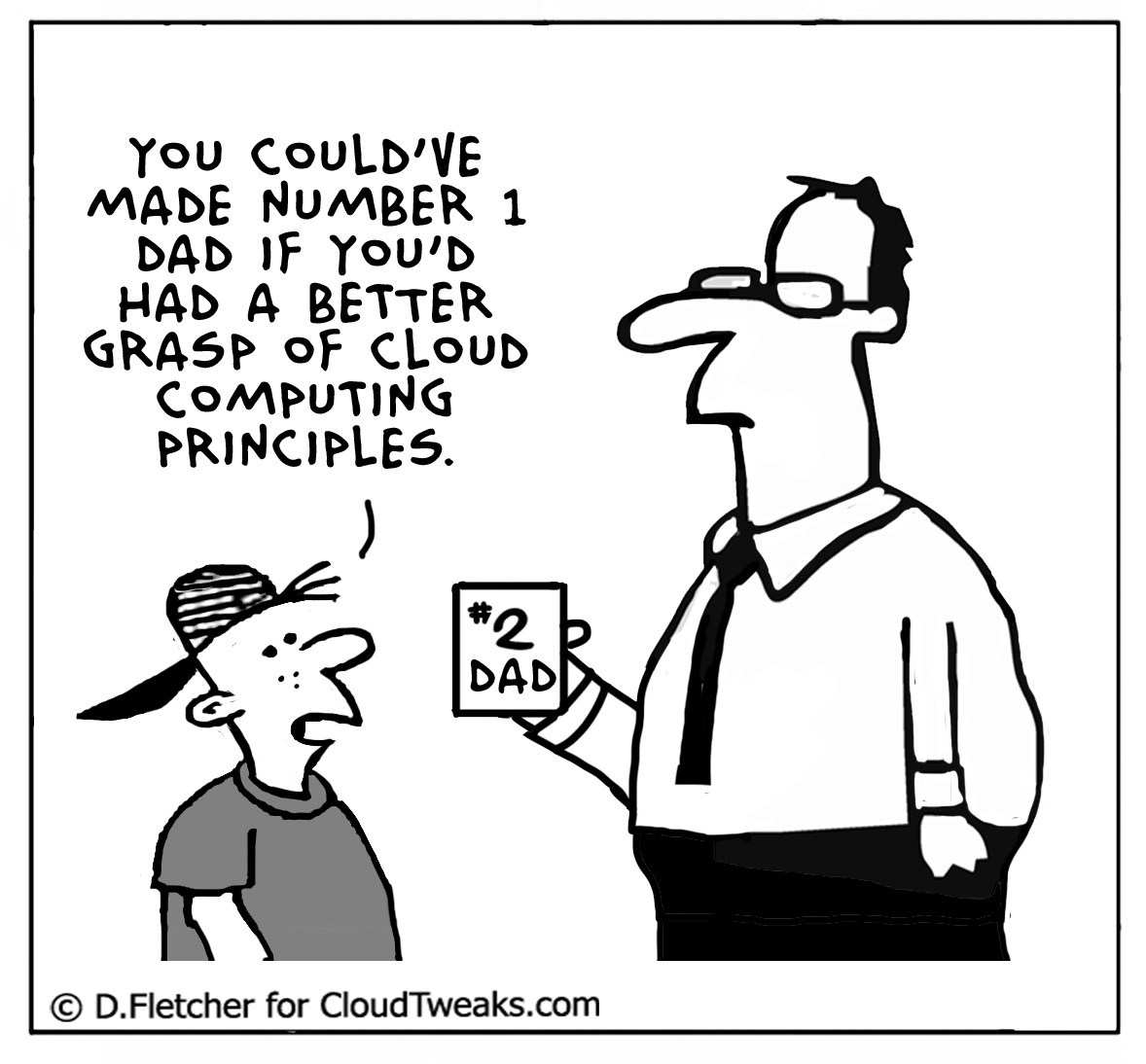 It was a great Father's Day this year. The temperature was perfect and there wasn't a cloud in the sky. However, no matter the weather or what we did to celebrate it seemed the Cloud was following us around everywhere we went. Let's take a look at how the Cloud changed even my Father's Day:
First on the agenda was a Father's Day classic that technology could never change; Breakfast in bed. My wife, being awesome, made sure this included my favorite Starbucks drink. That's a Grande Skinny Vanilla Latte with just 2 pumps of vanilla, in case you were thinking of buying me something nice. Of course she paid for it with her handy Starbucks App. Apparently all of our personal banking information and purchase history is stored in there. Score that one to the Cloud, that's pretty cool, and convenient since I forget my wallet about half the time I run out to get coffee.
In the past I remember picking up the Sunday Herald for my father to enjoy with his breakfast and boy did he love that. I loved stealing the circular and highlighting all the stuff he should buy me. No need for that anymore kids, I'll just peruse Flipboard (likely my favorite app) on my tablet, all the news on any subject right at the tip of my finger. The kids just update their wish list in Amazon. Fair trade, I'll take it. Modern day Father's Day is looking great so far.
After breakfast we got the baby ready and headed out for the day. We were off to see the Parents, or Grandparents, depending who you ask. They agreed to watch the baby so I could spend some free time to get a workout in. For me, this is a great gift and I was thrilled that I didn't have to miss my scheduled gym day. I thought this would have been even better if they told me beforehand so I could have found a gym in the area, but I was grateful and didn't let my neurotic planner side show through. Thanks to the GPS in my phone this setback was merely something to do while I buckled myself in for the ride. It took me 8 seconds to find a local Gold's Gym. I timed it, and I took longer to buckle myself in, but that's another story.
After my workout was a trip to a family barbecue. I'm terrible about remembering these types of things but sure enough, there's the invitation sitting in my Facebook and living in the Cloud this whole time. "Event created on April 9", "you're going", guess I was told about this with sufficient notice. Let's ignore the fact that I ignored all those pesky "event reminders" I keep getting.
Barbecue time, I found the strength in myself to enjoy this opportunity to stuff my face. Technology wasn't too prevalent at the Father's Day celebration unless you count the fact that every single person under 60 was on their smart phone about 50% of the time if not more. Hey, someone has to document the event and keep the "Twittersphere" up to date, why not everyone?
Just as I'm getting ready to blame technology for the disconnected nature of our modern society, the kids called for attention of all the fathers. To the surprise of all of us was a beautiful collage video put together by the kids, living in all different parts of the country. It was amazing. Apparently they can log in from anywhere and upload photos, captions, music, and make all sorts of edits. They worked as an impressive unit and put together quite the tear-jerker. I forgot all about everyone being on their smart phones. Boy that Cloud is pretty amazing. The montage was incredible and all anyone talked about the rest of the party and the rest of the night, on Facebook. It was uploaded before we left the party. This is why I have 37 notifications.
As the day wound down my wife asked me how I enjoyed my Father's Day. I told her it was great and would be just perfect if we could just lay down and watch a movie. Sure enough, she turned on Netflix.
Written By: Mike Ciulla
Senior Executive Assistant to President & CEO, Resident Body Builder and Protein Fanatic
Download our free ebook to learn more about how you can jump into the cloud